Second Annual Conference

Divination, prophecy and providence in Byzantium
Relics, travellers and religious art in the Byzantine cultural orbit
02.11.2018, Bucharest
Speakers
Paolo Odorico, Bogdan Tătaru-Cazaban, Andrei Timotin, Florin Filimon, Petre Guran, Andrei Prohin, Simona Nicolae, Ivan Biliarsky, Ioana Feodorov, Ovidiu Olar, Lidia Cotovanu, Margarita Kuyumdjieva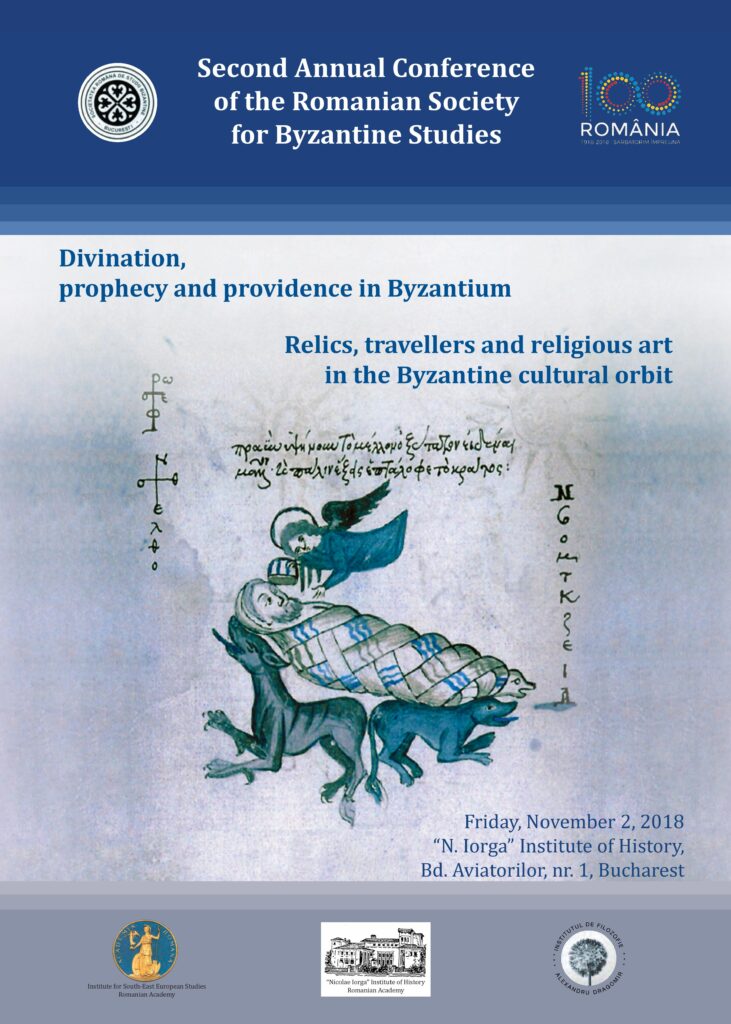 First Annual Conference

Imperial ideology and perception of the past
Byzantium through the eyes of others
16.11.2017, Bucharest
Speakers
Paul Magdalino, Petre Guran, Silviu Anghel, Andrei Timotin, Simona Nicolae, Adrian Pirtea, Ovidiu Cristea, Alexandru Madgearu, Șerban Marin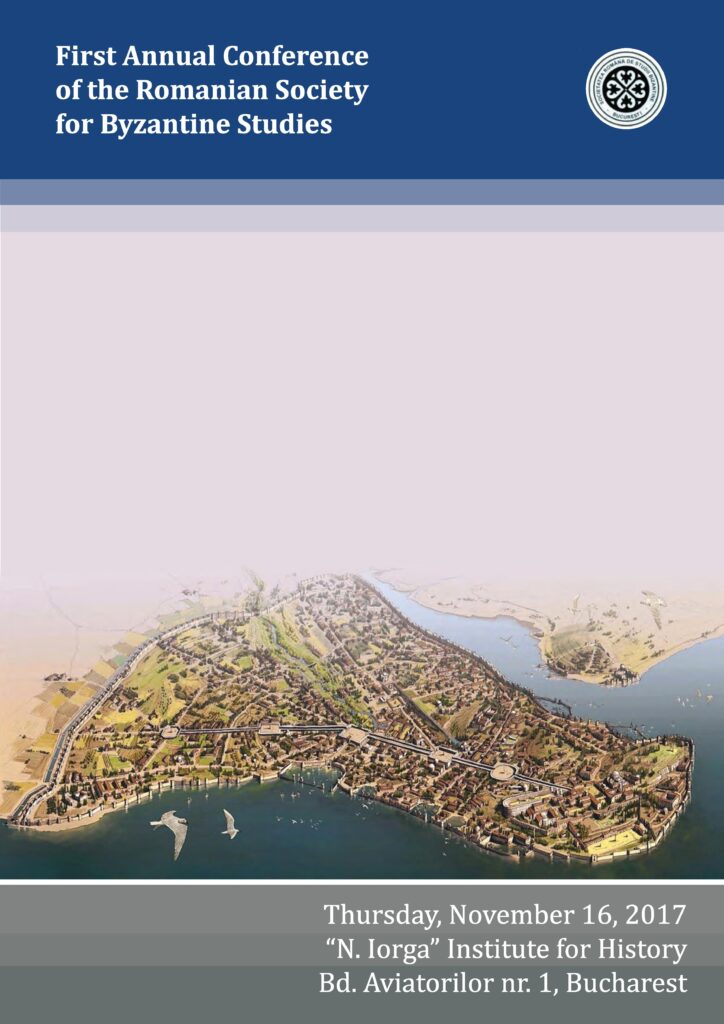 Béatrice atrice Caseau | Paris

23.05.2023, ISEES (Zoom), 11 am
Annemarie Weyl Carr | Dallas, TX

25.04.2023, ISEES (Zoom), 16 pm
Adrian Marinescu | Munich

21.03.2023, ISEES (Zoom), 11 am
Lorenzo M. Ciolfi | Paris

21.02.2023, ISEES (Zoom), 10 am
Grigori Simeonov | Vienna

17.01.2023, ISEES (Zoom), 11 am
Florin Leonte | Olomouc

13.12.2022, ISEES (Zoom), 11 am
Cristian Gașpar | Vienna

15.11.2022, ISEES (Zoom), 11 am
Francesco Monticini | Rome

18.10.2022, ISEES (Zoom), 11 am
Leslie Brubaker | Birmingham

21.06.2022, ISEES (Zoom), 11 am
Lev Lukhovitskiy | Moscow

24.05.2022, ISEES (Zoom), 11 am
The forbidden word: historical reflections and unspoken accusations in the icon controversy under Alexios I Komnenos
Anna Gioffreda | Rome

12.04.2022, ISEES (Zoom), 16 pm
Foteini Spingou | Edinburgh

22.03.2022, ISEES (Zoom), 14 pm
Frederick Lauritzen | Venice

22.02.2022, ISEES (Zoom), 11 am
Christos Simelidis | Thessaloniki

25.01.2022, ISEES (Zoom), 11 am
Elena Boeck | Chicago

14.12.2021, ISEES (Zoom), 14 am
Dan Batovici | Leuven

23.11.2021, ISEES (Zoom), 11 am
Maria-Lucia Goiană | Vienna

26.10.2021, ISEES (Zoom), 11 am
Ovidiu Sferlea | Oradea

15.06.2021, ISEES (Zoom), 11 am
Adrian C. Pirtea | Vienna

25.05.2021, ISEES (Zoom), 11 am
Vlad Bedros | Bucharest
Andrei Dumitrescu | Bucharest
20.04.2021, ISEES (Zoom), 11 am
Pantelis Charalampakis | Sofia
30.03.2021, ISEES (Zoom), 11 am
Andrei Prohin | Chișinău
23.02.2021, ISEES (Zoom), 11 am
Alin Suciu | Goettingen, Helsinki
26.01.2021, ISEES (Zoom), 11 am
Ioan-Gabriel Alexandru | Cambridge
8.12.2020, ISEES (Zoom), 11 am
Catalogul ereziologic al lui Konstantinos Harmenopoulos: tehnici vechi de etichetare în conflictul isihast?
Andra Jugănaru | Thessaloniki
24.11.2020, ISEES (Zoom), 11 am
O analiză a colecțiilor de scrisori ale Părinților capadocieni folosind teoria rețelelor  
Mircea Duluș | Bucharest
27.10.2020, ISEES (Zoom), 11 am
Un (posibil) nou argument din Tratatul lui Porfir "Împotriva creștinilor" consemnat de Mihail Psellos în "Opusculul" 32 ("Cu privire la cele spuse în Cartea lui Iov că 'diavolul s-a înfățișat și el înaintea Domnului' printre îngerii Săi" – cf. Iov 1, 6)    
Alexandru Madgearu | Bucharest
25.02.2020, ISEES, 11 am
Revolta orășenilor din Larisa contra puterii centrale (1066)
Petre Guran | Bucharest
28.01.2020, ISEES, 11 am
Ideea ortodoxă. De ce s-a despărțit Biserica bizantină de Imperiul bizantin?    
Mihail Mitrea | Newcastle
12.12.2019, ISEES, 11 am
In margine codicum: critică textuală și reacții de lectură în manuscrise bizantine
Simona Nicolae | Bucharest
26.11.2019, ISEES, 11 am
Manuel Paleologul între istorie și literatură. Bilanțul cercetării scrierilor moral-politice
Pablo Ubierna | Buenos Aires
29.10.2019, ISEES, 11 am
Les rapports entre tradition scripturaire et littérature apocalyptique dans le monde syriaque au VIIe siècle
Iustina Barbu | Bucharest
11.06.2019, ISEES, 11 am
Imaginea evreului în Bizanțul secolelor IX-XI
Anca Elisabeta Tatay | Cluj-Napoca
02.04.2019, Holy Synod Library, 11 am
Despre fondul de carte românească veche și modernă din Biblioteca Apostolica Vaticana 
Mihai Țipău | Bucharest
19.03.2019, Faculty of History
University of Bucharest, 11 am
Istoriografia postbizantină. O reevaluare
Octavian-Adrian Negoiță | Bucharest
20.02.2019, ISEES, 11 am
Stâlpii islamului: practicile religioase musulmane în jurnalele de călătorie occidentale din a doua jumătate a secolului al XVI-lea
Oana Damian | Bucharest
22.01.2019, ISEES, 11 am
Despre arheologia epocii bizantine la Dunărea de Jos
David L. Neagu | Bucharest
24.10.2018, ISEES, 11 am
Levon I, Hetum I și Levon al II-lea: regi bizantini sau latini?
Anita Paolicchi | Florence
26.06.2018, Nicolae Iorga Institute of History, 11 am
Dexterae sanctorum: analisi comparativa di una categoria di reliquiari fra Oriente e Occidente cristiano
Luca Zavagno | Ankara (Bilkent Univ.)
25.04.2018, Nicolae Iorga Institute of History, 11 am
The Byzantine Insular World in the Early Middle Ages
Rev Marin Cojoc | Craiova
28.03.2018, ISEES, 11 am
Grigorie cel Mare și Bizanțul
Archim. Policarp Chițulescu | Bucharest
14.02.2018, ISEES, 11 am
Cartea slavă în Țările Române. Colecția inedită a Bibliotecii Sf. Sinod din București
Mihail-George Hâncu | Bucharest
23.01.2018, ISEES, 11 am
Cele din urmă vor fi cele dintâi: cosmogonii păgâne în epoca lui Iustinian
Bogdan Tătaru-Cazaban | Bucharest
13.12.2017, ISEES, 11 am
Receptarea bizantină a angelologiei dionisiene
Adrian Carabă | Bucharest
11.10.2017, ISEES, 11 am
Între Platon și Aristotel: bipolaritatea, trăsătură a filosofiei bizantine. O perspectivă diacronică